$179.00
Free US shipping over $99
BUY NOW
Ultraloq U-Bolt WiFi is a secure and advanced smart lock that offers security and convenience with built-in WiFi, Bluetooth and a Door Sensor for extra peace of mind. 5-in-1 keyless entry and total control of your door from anywhere.
NEW FEATURES
Maximum convenience without an extra hub to connect to WiFi.

Smart Auto Lock that will trigger only when your door is closed.

Door Left Open Alert always knows if your door is open or closed and gets smartphone notification if it is left open.
5-in-1 Keyless Entry Smart Lock
Smartphone App
More Ways to Control
"Hey Google, unlock my front door."
"Alexa, is my front door locked?"
Increased Security
No more wondering if your door is locked and closed. With the Smart Auto Lock feature, Ultraloq U-Bolt WiFi will auto lock behind you, only when the door is closed.
Protects You & Your Data
Dual Data Encryption

Two-Layer protection using secure 128-bit AES and a Dynamic Key that will keep you and your data safe.
Share eKeys
Grant access for specific dates or times.
Knows who has the access to your lock and how. Add or delete users any time you want.
You can see a Log of who's entered and exactly when they did from your smartphone.
The U-tec App enables you to unlock your door with your smartphone.
Smart Notifications
Compact and Sleek Design Matching All Home Styles
Related Products
Ultraloq U-Bolt Pro WiFi Smart Lock
BUY NOW
Customer Reviews
Write a Review
Ask a Question
09/18/2021
Bernardo A.

US
I recommend this product
Best smark lock
Has so many key options, integrates with alexa, built-in wifi. Overall great product.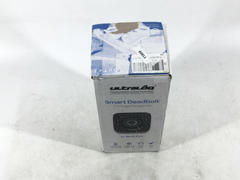 09/17/2021
Robert L.

US
I recommend this product
Great Product
The fact NOBODY had to carry a key is a GAME CHANGER!!! We have used this product for years with no complaints. When your hands are full do you really want to be looking for keys?? HIGHLY RECOMMEND!!
Compare
Feature
Built-in WiFi & Bluetooth Connectivity
Auto Unlock
Auto Lock
User Defined 4-8 Digit Code
Anti-peep Code
Magic Shake
Mechanical Key
Lockout Mode
Standalone Mode
Smartphone Control
Temporary Code
Temporary Ekey
Remote Access
Unlocking and Locking Alert
Unauthorized Attempts Alert
Multiple User Permissions
Smart Home Integration
Work with Alexa
Works with Google Assistant
Works with IFTTT
U-Bolt WiFi
Other smart locks
In the box
Interior Assembly * 1
Screws * 11
Exterior Assembly * 1
AA Alkaline Batteries * 4
Interior Mounting Plate * 1
Screwdriver * 1
Strike * 1
User Guide * 1
Bolt * 1
Drill Template * 1
Backup Keys *2
Reset Needle * 1
Door Sensor * 1
Specifications
Mechanical Key Override
Yes
Case Material
Premium Zinc Alloy
Dimensions
2.95 x 4.92 x 1.39 inch / 75 x 125 x 35.3 mm (back panel)
2.95 x 2.95 x 1.22 inch / 75 x 75 x 31 mm (front panel) 
Working Temperature
Outside lock body: -22 ̊F (-30 ̊C) to 149 ̊F (65 ̊C) IP65 Rated 
Inside lock body: 14 ̊F (-10 ̊C) to 131 ̊F (55 ̊C) 
Storage
Users: 50
Codes: 50
Working Voltage
6V (4 X Alkaline AA batteries)
Battery Life
3 - 6 months
Connectivity & Integration
Connectivity
Bluetooth, WiFi(2.4GHz, 802.11 b/g/n)
Compatible Smartphone
iOS and Android
Compatible Smart home Eco-system
Alexa, Google Assistant, IFTTT
Door Prep
2-1/8 inch (54 mm) diameter face hole & 1 inch (25 mm) diameter latch hole
Door Thickness
1.375" - 1.75" (35-45mm)
Backset
Adjustable to 2-3/8 inch or 2-3/4 inch
Warranty
18 months electronic warranty and lifetime mechanical warranty
FAQ
What is the difference between U-Bolt WiFi and U-Bolt Pro WiFi?
The differences between these two models are the Fingerprint Reader and the Micro-USB port for emergency override U-Bolt Pro WiFi has.
What is the difference between U-Bolt and U-Bolt WiFi?
U-Bolt WiFi comes with a Door Sensor that will you know if your door is closed, open, locked, or unlocked. It has built-in WiFi, so you don't need an extra hub to connect to WiFi. And the Smart Auto-Lock feature, that will trigger only when your door is closed.
Do I need an Ultraloq Bridge to control U-Bolt WiFi remotely?
No, U-Bolt WiFi does not require an Ultraloq Bridge to connect. It has built-in WiFi that will let you control your Ultraloq from anywhere, anytime with the U-tec App.
Can I control U-Bolt WiFi with voice commands?
Yes, U-Bolt WiFi works with Alexa and Google Assistant for voice commands.
Do I need a professional installer or do modifications to my door?
No, U-Bolt WiFi is designed to fit any US standard door. With DIY installation, no wiring and no drilling is required, just a few screws.
Yes, our customers' security is our top priority; that's why we strive to have the latest technology to maintain their data protected. U-Bolt WiFi has Dual Data Encryption, using secure 128-bit AES and a Dynamic Key that will keep you and your data safe. To learn more about How Secure is your Data please click
Here
Refer Friends and Get 10% Cash Back!
Give 10% OFF & Get 10% Cash Back!
30

days
money back guarantee

18

months
electronic warranty

Free

US shipping
over $99